School Groups visit Dewar Wildlife
Interested in having your School Group Visit?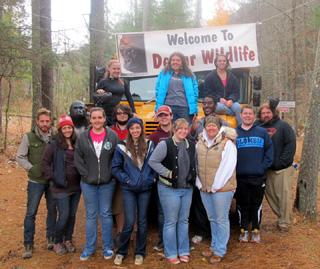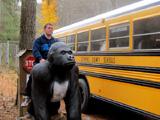 In addition to just visiting the facility, several school groups have made it a full outing by camping overnight on the Dewar Wildlife property. We have a fire ring which works well for a night time cook-out and students can use sleeping bags inside unoccupied buildings - even inside cages(!), or they can pitch tents or hammocks and sleep outside if the weather is good. Restroom and showers are available in a nearby building to make it a more pleasant experience.

Dewar Wildlife's secluded location in the mountains of North Georgia makes it an ideal place to experience the natural environment and encourage students to think about conservation, animal welfare and environmental issues. Teachers who accompany the students have been especially impressed at the uniformly positive reaction of the students to the experience.

Dewar Wildlife offers special pricing on group visits - contact JoBeth Dewar (706-374-5109) for more information
A class from Stephens County schools visited Dewar Wildlife on October 18, 2013. This photograph was taken just outside the main gates at the conclusion of the visit.

All of them declared that it was an "Awesome" experience, never to be forgotten, to get so close to these magnificent creatures. After camping out overnight (boys in the cages in an unoccupied Gorilla Villa, girls in the Recovery building), they got up the next day and pitched in to help clear the garden for planting and help get the maintenance building organized. Thank you, Stephens County Schools!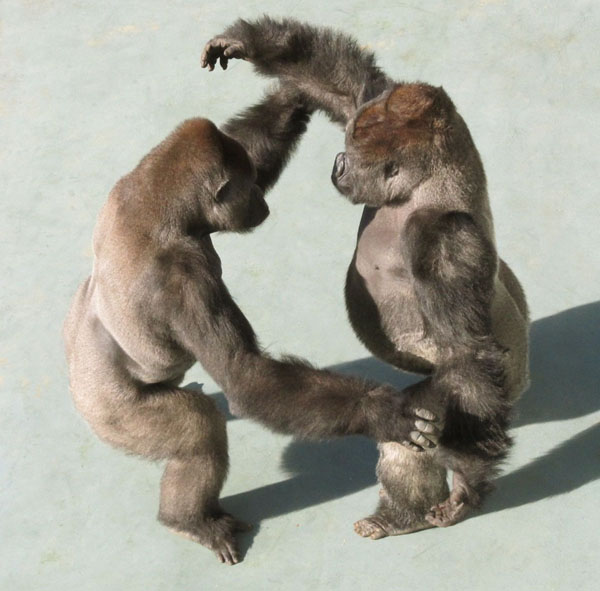 Photo Courtesy of Bobby Fellows at Dewar Wildlife
Hey, the Vets said Our Hearts
are Good - Let's Dance!
BTW - who leads ??

DWT's Relationship with Zoo Atlanta
In early 2012, C. E. Steuart Dewar, President & CEO of the Dewar Wildlife Trust, Inc., entered into an agreement with Zoo Atlanta to explore the variety of possibilities presented by the 100-acre facility, nestled in the mountains of Morganton, GA.
The 100-acre, AZA-certified complex comprises an eight acre gorilla habitat; five night buildings; medical facilities; maintenance and storage buildings; and a two-bedroom cottage for keepers and visitors.
An immediate benefit of the Zoo Atlanta partnership was the ability to provide housing from some of Zoo Atlanta's bachelor gorillas. The facility's residents, Jasiri, 14 (left), and Willie B. Jr., 14 (right), continue to enjoy their spacious new home. Both young males are the equivalent of Zoo Atlanta royalty: Willie B. Jr. is the only son of the legendary late Willie B., and Jasiri is the one of the sons of beloved Zoo Patriarch Ozzie.