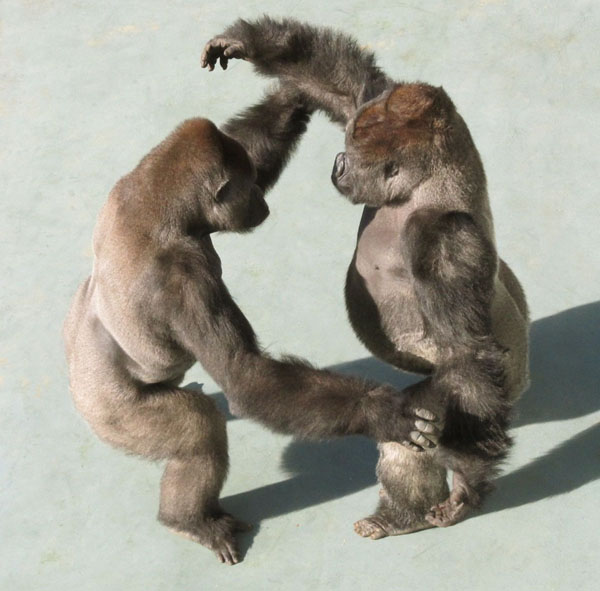 Photo Courtesy of Bobby Fellows at Dewar Wildlife
Hey, the Vets said Our Hearts
are Good - Let's Dance!
BTW - who leads ??

DWT's Relationship with Zoo Atlanta
In early 2012, C. E. Steuart Dewar, President & CEO of the Dewar Wildlife Trust, Inc., entered into an agreement with Zoo Atlanta to explore the variety of possibilities presented by the 100-acre facility, nestled in the mountains of Morganton, GA.
The 100-acre, AZA-certified complex comprises an 8.5 acre gorilla habitat; five night buildings; medical facilities; maintenance and storage buildings; and a two-bedroom cottage for keepers and visitors.
An immediate benefit of the Zoo Atlanta partnership was the ability to provide housing from some of Zoo Atlanta's bachelor gorillas. The facility's residents, Jasiri, 14 (left), and Willie B. Jr., 14 (right), continue to enjoy their spacious new home. Both young males are the equivalent of Zoo Atlanta royalty: Willie B. Jr. is the only son of the legendary late Willie B., and Jasiri is the one of the sons of beloved Zoo Patriarch Ozzie.