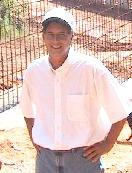 Francis Cipullo, DVM
Francis Cipullo has been associated with Dewar Wildlife for over a decade, providing extraordinary care for the gorillas at Dewar Wildlife. Being a 501(c)(3), the DWT has difficulty finding the appropriate words to express its appreciation for everything he has done for the DWT.

Dr. Cipullo has also provided valuable services to the Ellijay Wildlife Rehabilitation Sanctuary and the Gilmer County Library.

Dr. Cipullo's practice is Appalachian Veterinary Services in Ellijay, Georgia and he provides house calls by appointment in North Georgia (email: appalachianvs@gmail.com). He received his DVM at the University of Florida in 1987 and has completed internships at the National Cancer Institute and the Miami metro Zoo. Dr. Cipullo lives in Ellijay, GA and has three children, Jessica, Katie and Ryan.