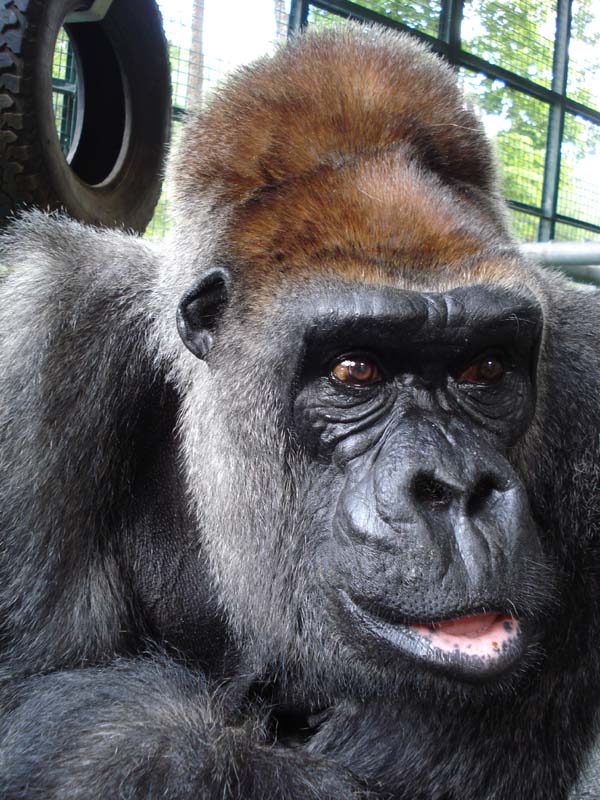 1963-2012
In Memoriam...
Today, as we write this, July 31st, 2013, it has now been exactly one year since Joe passed away, but his memory stays with all of us.
What we remember most was his curiosity about people, especially youngsters on the tours - he would hang on the front of the cage and carefully inspect everyone.
We miss him, but are also thankful that he was able to spend the last nine years of his life in the wonderfully peaceful surroundings at Dewar Wildlife where he flourished and became an icon for everyone who met him.
See also DWT Facebook page for more information....
Congratulations to the Columbus Zoo on the birth of a baby (male) to Kambera and Oliver today (May 23, 2013). Oliver is a former resident of Dewar Wildlife and we are delighted to hear the good news that he is now a father for the first time. Oliver's son is named Kamoli in honor of his parents Kambera and Oliver. Kambera is the granddaughter of Columbus' late Lulu, who surrogated her, and the niece of Binte Jua, who was in the news for rescuing a 2 year old boy who fell into the gorilla exhibit at the Brookfield Zoo while taking care of her own baby, and Pattycake, the first gorilla born in captivity in New York City, who recently passed away.

The Dewar Wildlife Trust, after spending 3 years with Oliver, is confident he will be a wonderful father - especially after seeing Oliver gently treat the goats that kept him company at Dewar Wildlife (even when they are making a grab for his food!) (see video).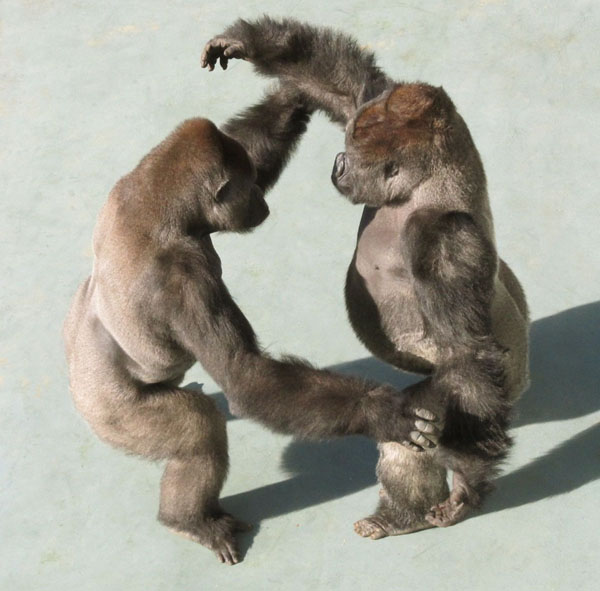 Photo Courtesy of Bobby Fellows at Dewar Wildlife
Hey, the Vets said Our Hearts
are Good - Let's Dance!
BTW - who leads ??

DWT's Relationship with Zoo Atlanta
In early 2012, C. E. Steuart Dewar, President & CEO of the Dewar Wildlife Trust, Inc., entered into an agreement with Zoo Atlanta to explore the variety of possibilities presented by the 100-acre facility, nestled in the mountains of Morganton, GA.
The 100-acre, AZA-certified complex comprises an 8.5 acre gorilla habitat; five night buildings; medical facilities; maintenance and storage buildings; and a two-bedroom cottage for keepers and visitors.
An immediate benefit of the Zoo Atlanta partnership was the ability to provide housing from some of Zoo Atlanta's bachelor gorillas. The facility's residents, Jasiri, 14 (left), and Willie B. Jr., 14 (right), continue to enjoy their spacious new home. Both young males are the equivalent of Zoo Atlanta royalty: Willie B. Jr. is the only son of the legendary late Willie B., and Jasiri is the one of the sons of beloved Zoo Patriarch Ozzie.